I am still loving that spooky season
R.I.P. Challenge
! Last month, I finally read book 2 in the
Miss Peregrine's Home for Peculiar Children
series,
Hollow City
by Ransom Riggs. I really enjoyed book 1 (review at the link), and book 2 continued the fast-paced fantasy adventure, in this unique series that builds its story around the weirdest vintage photos you've ever seen!
I am going to tiptoe around the plot to avoid spoilers for those who haven't yet read the first book. Jacob Portman was living an ordinary life in Florida, when his grandpa, who'd always told wild stories about fighting monsters, died under mysterious circumstances. So, in book 1, Jacob followed his beloved grandfather's stories and journeyed to a small island off the coast of Wales, where he found the home for peculiar children hidden in a unique time warp and found out that all of his grandpa's stories were actually true. Peculiar people have strange talents - like invisibility or creating a flame in their hands - that would put them in danger among "normal" society. Oh, and it turns out that Jacob is peculiar, too, with the unique ability to see the monsters that are relentlessly chasing the peculiar children…just like his grandpa could.
Fast-forward to the start of book 2, Hollow City, where Jacob and a small group of his new peculiar friends have had to leave their protected home on the island and are looking for a way to help their beloved headmistress, Miss Peregrine. Their journey eventually takes them to London in 1940, where the city is being bombed nightly and children are being sent out to the country. Jacob feels a responsibility to keep his fellow peculiars safe while they search for answers and assistance.
Along the way, they discover other "time loops" hiding other groups of peculiars, as well as some peculiar children living among normal people, doing their best to hide their special abilities. All of this fantasy adventure, though, is set against the grim background of the London blitzkrieg, so that the children are fighting against both supernatural and all-too-real dangers.
The most unique and fascinating aspect of this series is the photographs that accompany it. Both books 1 and 2 (and book 3 which I haven't read yet) are filled with real-life vintage photos that will make you believe that peculiars are absolutely real. These are some of the weirdest - dare I say most peculiar? - pictures that you've ever seen. Most are quite old, from well before Photoshop, but you will find yourself examining each one closely, wondering, "How did someone do that?"
The author found these vintage photos - and thousands more - in flea markets at auctions, and among collectors, and he wrote the story to fit the photos (you will see how a single one of these strange photos could easily become the fodder for an entire story), which makes the combination of bizarre vintage photos and Riggs' imaginative story so compelling. I thoroughly enjoyed following the suspenseful adventures and close calls of the peculiar children in this second part of their story. I was riveted by the story and its twists and turns and can't wait to read the final piece in this very original series.
396 pages, Quirk Books
NOTE: I had the pleasure of meeting one of the founders of
Quirk books
, author Jason Rekulak, earlier this year at
Booktopia
. It's a very unique publisher, with a lot of fun books! And I highly recommend Jason's own novel,
The Impossible Fortress
.
Disclosure: I borrowed this book from a friend. My review is my own opinion.
Note: This post contains affiliate links. Purchases from these links provide a small commission to me (pennies per purchase), to help offset the time I spend writing for this blog, at no extra cost to you.
Hollow City: The Second Novel of Miss Peregrine's Peculiar Children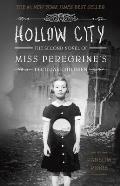 by Ransom RiggsTrade Paperback
Miss Peregrines Home for Peculiar Children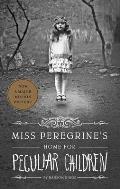 by Ransom RiggsTrade Paperback
Or you can purchase
Hollow City (or book 1) from Book Depository
, with free shipping worldwide.