I'm not often inspired to finish series, but in the case of the middle-grade sci fi thriller series
Masterminds
by Gordon Kormon, I couldn't wait for the third and final book! I thoroughly enjoyed the fast-paced action and unique plot in the first book,
Masterminds
, and the second book,
Masterminds: Criminal Destiny
. Book 3,
Masterminds: Payback
, wrapped up the series nicely with more action and adventure.
If you read my reviews regularly, you know that I hate spoilers, so I am going to carefully describe book 3 without giving away the secrets in books 1 or 2 - half the fun is all the surprises!
This series focuses on a unique, isolated town in New Mexico named Serenity. True to its name, Serenity has no crime and no poverty and has been voted #1 in the U.S. for standard of living. Honesty and integrity are among the core values of its 185 citizens. A small group of 12- and 13-year olds have grown up together in Serenity, including model citizen and high-achiever Amber; her best friend, artistic Tori; computer whiz Eli whose dad is the town's mayor; and Malik, a rebel (which is an oddity in Serenity).
In book 1, these kids discover some startling secrets about Serenity and themselves and manage to escape from the town. In book 2, they are out in the real world and on their own for the first time, with the security force from Serenity hot on their heels. Here, in book 3, those four kids are still on their own and still trying to evade the frightening people who want to haul them back to Serenity. At the start of the book, they get split up, with Amber and Malik ending up in Chicago with an infamous crime boss, while Tori and Eli head to California, to track down a possible lead to more information about their own origins.
Eventually, the four main characters are reunited and still intent on their plans to unravel all the secrets of Serenity and their own lives and now, to rescue the other kids left behind in town and make those responsible pay for what they have done. As in the previous two books, there are plenty of unexpected twists and turns in the plot and nonstop action, as the kids race across the U.S. (and beyond). I listened to all three novels on audio and enjoyed the multiple-voice productions. With plenty of suspense, the series finally comes to a satisfying conclusion. Masterminds is perfect for both boys and girls in middle grades who enjoy a fast-paced thriller.
320 pages. Balzer + Bray
HarperAudio
If you want to avoid spoilers, don't read the blurbs for books 2 and 3!
You can listen to an audio sample of book 1, Masterminds, here:
I received this audiobook from the publisher in return for an honest review. My review is my own opinion and is not influenced by my relationship with the publisher or author.
Note: This post contains affiliate links. Purchases from these links provide a small commission to me (pennies per purchase), to help offset the time I spend writing for this blog, at no extra cost to you.
Masterminds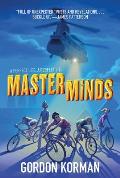 by Steve Kenson and Darren Bulmer and Christopher McGlothlinTrade Paperback
Masterminds 02 Criminal Destiny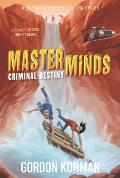 by GRR5514, Steve Kenson, Scott BennieTrade Paperback
Masterminds 03 Payback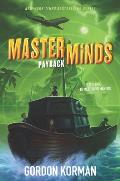 by GRR5514, Steve Kenson, Scott BennieHardcover