Author Veronica Roth is well known for her wildly successful dystopian trilogy (and series of
movie adaptations
) that began with
Divergent
. Her latest teen/YA novel,
Carve the Mark
, is quite different, a fantasy that takes place in another world, though it has some similar elements, including romance, suspense, and a violent society.
Akos Kereseth lives a quiet life on the frozen nation-planet Thuvhe, with his older brother, Eijeh, and their sister, Cisi. Their father is a farmer, but their mother is an oracle - someone who can see the future - so their family is at the top of the Thuvheian hierarchy, though their society is a peaceful one. One day, a team of soldiers from Shotet, Thuvhe's enemies, forces their way into the Kereseth home, kidnaps the two brothers, and kills their father.
Across the world in Shotet, Cyra Noavek has grown up in a very different family and society. As members of the ruling family, the Noaveks are viewed by their community with both awe and fear. Cyra loves her mother, who treats her kindly, but her father, Lazmet, is a cruel, violent man. Cyra's brother, Ryzek, is a full ten years older than her and takes the brunt of their father's temper, as Lazmet wants to make Ryzek into a strong leader who can one day take over his role. Unfortunately, once his father dies, Ryzek assumes his role as leader in much the same cruel way his father did, the only way he's ever learned.
Both countries live in a world ruled by "the current." The current is a magical kind of power that flows through the universe that appears as a blue light. As each child reaches adolescence, he or she develops some sort of current gift. Akos' mother's gift is her ability to see the future. Cyra develops her current gift at a very young age: the ability to cause pain to others merely through her touch. The current can be seen visibly moving beneath her skin, a testament to her powerful gift. Unfortunately, Cyra herself must endure constant pain. To make matters worse, her father forces her to use her gift to punish and torture others who have wronged him in some way.
Akos' current gift is the ability to negate others' gifts - a kind of anti-power that can neutralize the powers of those around him. His brother has some of the same oracle powers as their mother, which is part of why he was kidnapped by the Shotet. Both brothers now live in the palace-like home of the Noaveks, with Cyra and her cruel brother, Ryzek. As Akos is the only person who can ease Cyra's constant pain, the two become close companions and eventually friends. But can friendship (and perhaps more) overcome the force of their families' and communities' long-running animosity?
You can probably tell just from this brief plot summary that this is a very complicated story. In addition, since it takes place in another world, the novel is filled with other unfamiliar nouns besides the characters' names - plants, animals, foods, potions, and places. This made it very confusing for me, especially listening on audio. I struggled with it for at least the first half, though I did eventually get into the flow of the story and ended up enjoying it somewhat. I generally prefer sci fi and dystopian stories to fantasy. When I do particularly like fantasy novels, they are usually set in our own world, with some fantasy elements, like Maggie Stiefvater's The Raven Boys or Miss Peregrine's Home for Peculiar Children by Ransom Riggs. So, this isn't really my kind of novel.
For those who enjoy this kind of epic fantasy, Carve the Mark creates an in-depth, intriguing world that is entirely different than our own, where current gifts (i.e. powers) are a main driving force. The battle between the two countries and their ways of life become even more interesting when an underground revolution is revealed in Shotet. There is a fair amount of violence here, not only when Cyra is forced to use her current gift to hurt people but also in the Shotet tradition of resolving conflict through public fights to the death (picture the Coliseum, only without the lions). There is also a thread of romance, as Cyra and Akos become closer and start to care for each other. This novel is just book one of a series, as the ending clearly indicates, so if fantasy and world-building are your kind of thing, you'll probably enjoy it and want to read more.
480 pages, Katherine Tegen Books
HarperAudio
You can listen to a free sample of the audiobook at the Amazon/Audible link below.
Disclosure: I received this audiobook from the publisher in return for an honest review. My review is my own opinion and is not influenced by any relationship with the publisher or author.
Note: This post contains affiliate links. Purchases from these links provide a small commission to me (pennies per purchase), to help offset the time I spend writing for this blog, at no extra cost to you.
Carve the Mark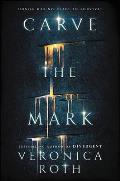 by Veronica RothHardcover
-->