This summer, I read and reviewed
The Atlas of Forgotten Places
, Jenny D. Williams' first novel, for
Shelf Awareness
. You can read
my full review at this link
.
I absolutely loved this novel and was riveted from the first chapters. In fact, I told my editor how much I liked it, so he could put it in the running for
Shelf Awareness
' Top 10 list at the end of the year.
It's the story of two very different women, connected by two missing persons in Uganda in 2008, who come together to search for their loved ones in the war-torn region. I knew very little about Uganda when I started this book, other than hearing a bit about Joseph Kony, the African warlord who notoriously abducts children and turns them into soldiers, on the news. Kony is a critical part of this novel, as one of the main characters, Rose, was abducted by his people as a child and held captive, living in the bush, for 10 years.
When Rose's boyfriend goes missing, she joins forces with Sabine, a German woman whose American niece also went missing after her volunteer work in Uganda ended. I highly recommend this novel that combines mystery, suspense, action, history, and family drama into a compelling, moving story.
You can read
my full review on Shelf Awareness
.
368 pages, Thomas Dunne Books
-->
Note: This post contains affiliate links. Purchases from these links provide a small commission to me (pennies per purchase), to help offset the time I spend writing for this blog, at no extra cost to you.
The Atlas of Forgotten Places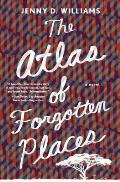 by Philip D. Kenneson and Debra Dean Murphy and Jenny C. WilliamsHardcover
Or order
The Atlas of Forgotten Places from The Book Depository
.