Last month, I listened to a suspense novel on audio,
If I Run
by Terri Blackstock, that I downloaded free from the
SYNC website
during the summer (sign up for alerts for next summer!). It was an engaging and suspenseful story that turned out to be the first of three books in a trilogy.
There is no slow start here - the novel begins with its main character, Casey, throwing some things in a duffel bag and leaving town in a rush, certain that the police will be after her soon. She is covered in blood, having just left the crime scene where her best friend, Brent, was murdered. She knows her DNA will be all over the scene. That's about all we know to start with, as Casey begins her life on the run and gets on a bus out of town. Sure enough, before long, the police are looking for her as the #1 suspect.
At Brent's funeral, his grieving parents hire Brent's childhood friend, Dylan, to help track down Casey and bring her back home. Dylan has just been discharged from the military, and he has some experience with military investigations. However, Dylan suffers from PTSD from his experiences in the war. Eager to help find out what happened to his friend and ease the pain of his parents, Dylan sets off looking for Casey.
The rest of the novel follows Casey and Dylan as they cross the U.S., with alternating chapters told from each of their points of view. There is plenty of tension as Casey tries to evade both Dylan and the police, and the reader only slowly learns what happened back in her hometown in Texas and why she felt she had to run. Lots of twists and turns in the complex plot keep the story moving, and there is even another crime woven in as Casey tries to establish herself in a new town. The novel was compelling, though it was a surprise to me to find out it was just the first book of a series. It ends with a side plot being resolved but Casey still on the run and Dylan still looking for her. I enjoyed it, though I probably won't read the rest of the series.
320 pages, Zondervan
NOTE: I was surprised to discover this novel is Christian fiction, since I downloaded the audio from SYNC. The references to religion were subtle at first but became more obvious toward the end of the novel, and I imagine those themes are more fully developed in the next two books. Book two is now out, but I don't yet see a release date for book three.
-->
Disclosure: I received this audiobook free from SYNC. My review is my own opinion.
Note: This post contains affiliate links. Purchases from these links provide a small commission to me (pennies per purchase), to help offset the time I spend writing for this blog, at no extra cost to you.
You can listen to a
sample of the audio from Audible at this link
.
If I Run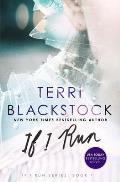 by Terri BlackstockTrade Paperback
If Im Found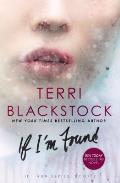 by Terri BlackstockTrade Paperback