I noticed all the attention that
Before the Fall
by Noah Hawley got after its publication in 2016, so I gave it to my husband for Christmas last year. He enjoyed it and moved it over to my side of the TBR bookcase! The R.I.P Challenge in October gave me the extra motivation to finally read this gripping and thoughtful literary suspense novel.
In the second chapter of the novel, a small private plane crashes on its way from Martha's Vineyard to NYC. David Bateman, head of a controversial 24-hour news network, owns the plane. He and his wife, Maggie, and their two children - nine-year old Rachel and four-year old J.J. - board the plane first after its small crew of pilot, co-pilot, and flight attendant. Their friends, Ben, a Wall Street big shot, and Sarah, board soon after, and a painter named Scott rounds out the passenger list, along with the Bateman's bodyguard, Gil. Flying in a private plane is way beyond Scott's usual mode of travel, but he is friends with Maggie, who's a fan of his paintings, and she invited him along when she heard he was traveling to NY tonight also. En route, the small plane crashes into the ocean. Only Scott and J.J. survive, and Scott, a past competitive swimmer, saves the small boy's life by swimming to shore with him.
The rest of the novel untangles exactly what happened before and during the flight and how and why the plane crashed. This is accomplished through an investigation team, but the novel also delves into the lives and backgrounds of every person on that plane, one at a time, so the reader gets to see what was happening in his or her life in the days before the crash. There is a lot of suspense here and plenty of surprises, and my guesses about what happened and who was responsible shifted with each new bit of information. But this novel is more than just a mystery. It also digs thoughtfully into issues in our world today, with respect to the media, privacy, fame, and human nature. I was riveted by this in-depth look at what happens after a disaster, to both the victims and the survivors, and the mystery at the heart of the story kept me guessing until the final pages.
390 pages, Grand Central Publishing
-->
Disclosure: I purchased this book myself. My review is my own opinion.
Note: This post contains affiliate links. Purchases from these links provide a small commission to me (pennies per purchase), to help offset the time I spend writing for this blog, at no extra cost to you.
Before the Fall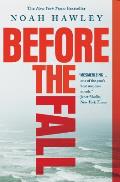 by Noah HawleyTrade Paperback
Or order
Before the Fall from Book Depository
, with free shipping worldwide.