-->
One of my book groups recently read and discussed
Another Brooklyn
by Jacqueline Woodson, and I was thrilled for the chance to read another book by this remarkable, award-winning author. I loved her memoir in verse,
Brown Girl Dreaming
(which won the 2014 National Book Award), and
Another Brooklyn
, though a novel and prose, employs similar themes and spare writing style as it explores the lives of adolescent girls in Brooklyn in the 1970's.
As the novel opens, August, a woman anthropologist who studies death rituals around the world, is in Brooklyn at her father's funeral with her brother. This trip home brings all kinds of memories back, some good and some difficult, as she grapples with her father's death, with seeing her brother again, and with a brief glimpse of a childhood friend. Much of the rest of the novel takes place in the past, as she recalls images and scenes from her childhood and adolescence.
She and her father and brother moved to Brooklyn when August was eight years old and her brother just four. That move formed a boundary in her life, with her childhood in Tennessee with both parents on one side and her growing-up years in Brooklyn on the other. She remembers bits and pieces with her brother and her father, but many of her brightest memories are of her three best friends, Gigi, Sylvia, and Angela. The four girls bonded and went through those tender and tough years of adolescence together.
Although this is a novel, it is a brief book, told in spare, lyrical prose that reminded me somewhat of the loose verse in Brown Girl Dreaming. As in that memoir, here Woodson has a rare talent for imbuing a few words with intense meaning, painting a brilliant picture of childhood and adolescence. For instance, in this brief passage, she describes her childhood home in Tennessee in a way that makes you feel what she felt:
"We ran through it laughing, slamming out of and into it, closing our eyes at night then waking in the bright morning inside the pure joy of Home."
If you had a happy childhood home, as I did, then she perfectly captures the feeling of an entire childhood in that single sentence.
Although her childhood was by no means carefree and had plenty of challenges, including the loss of her mother, she also describes the ups and downs of adolescence beautifully, remembering the joys of having best friends, giggling together at sleepovers and walking arm in arm down the street, as well as the devastating agonies of lost love and betrayals:
"When you're fifteen, pain skips over reason, aims right for the marrow."
I loved this slim novel and the way that the author perfectly captured the experiences of being a child and a teenager, even though my own upbringing in the suburbs (also in the 70's) was entirely different from hers in Brooklyn in so many ways; she captured the essence of growing up. Of our group of about eight in our book discussion that evening, most also enjoyed the book and appreciated its unique prose style, though two members didn't like it as well and would have preferred a more straightforward, traditional narrative.
For me, Woodson's writing style in this novel matched the framework of the book – brief, vibrant vignettes presented in the way that memories are often recalled, bringing to mind the highs and the lows of a life that is both ordinary and extraordinary. Despite my very different childhood, I found her portrayal of adolescence perfectly captured that joyful, rocky, uncertain time between childhood and adulthood. The story told in those vivid memories, combined with the spare and lyrical prose, made Woodson's warm and tender novel of growing up a captivating adventure that ended much too soon.
170 pages, Amistad (a HarperCollins imprint)
Another Brooklyn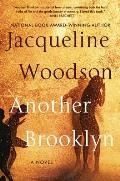 by Blackstone AudioHardcover