I was stunned this morning to hear the horrible news that
Amy Krouse Rosenthal died of cancer a few days ago
. Born in the same year as me, a writer with kids who grew up in the suburbs of the 70's, I felt a connection to her. As she put it, "we shared a moment (in the form of an e-mail exchange)" back in 2010, after I reviewed her book,
Encyclopedia of an Ordinary Life
(which I loved). In fact, she just e-mailed me again in October to tell me about her new book,
Textbook Amy Krouse
Rosenthal
. I had no idea she was battling cancer then and was crushed to hear today that she lost that battle. She was a smart, funny, clever, playful, and kind person - and all of that came across in her writing.
You can read my review of
Encyclopedia of an Ordinary Life
(and then go read the book!). Sadly, I never received the review copy of
Textbook Amy Krouse
so I haven't read it yet, but I would like to.
I also posted this
trio of fun and amusing videos that Amy made
, in part to promote
Encyclopedia of an Ordinary Life
- they are short and well worth watching - clever and funny, just like Amy.
Amy's website
tells you a lot about her life and her books - and again showcases that wonderful sense of humor. The website includes dozens of short videos that Amy made. One of them,
Thought Bubble Kindness
, was the Winner of Best Animation at the Peace On Earth Film Festival 2011. You can watch that one right here:
Amy has also given three TED talks (three! I had no idea). In this one, she explains how she launched her project Beckoning Lovely - a warm and inspiring concept and project:
Hopefully, that last video will inspire YOU to live your life as Amy did - with warmth, kindness, and creativity. Look for the lovely in your own life and share it with others.
The best way to honor Amy's memory is to enjoy the wonderful books she's written (many books for children, in addition to these 2 for adults). She was a talented, kind, smart, funny woman who will be sorely missed.
Encyclopedia of an Ordinary Life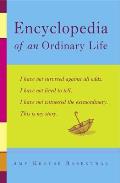 by Amy Krouse RosenthalTrade Paperback
Textbook Amy Krouse Rosenthal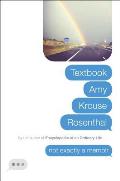 by Amy Krouse RosenthalHardcover